The Hurricane Ida cleanup base in Louisiana continues in full swing. Cleanup volunteers and chaplain ministry workers are working hard and ministering to those affected by the storm.
Rapid Response cleanup
Rapid Response Services cleanup started with a lot of smaller jobs. But now we are working on bigger gut-out work orders for houses that were severely damaged. Team members and volunteers have been working in Montegut, Chauvin, and Dulac.
Loaves & Fishes Food Kitchen
For weeks after the storm, the food kitchen was a busy place with daily meal counts ranging from 1,100 to 1,500. Volunteers served several meals during downpours of rain. One meal recipient said, "I walked up towards the kitchen and my legs were so tired. My feet were so tired that every step took effort. As I approached and saw happy faces and heard the singing, it felt like strength got into my legs and I could go once again."
Another person who received a meal from the Loaves & Fishes Food Kitchen wrote the following note of thanks: "We were waiting in line to receive our food, and when all of you began to sing my heart got so big, I began to cry. At that moment, you all sounded like "angels" and I knew everything was going to be alright. I will never forget all of you and what you do and did for us."
Chaplain Ministry
The Chaplain Ministry workers worked closely with the Loaves & Fishes Food Kitchen, talking to people as they come through the food line. Everyone has a story of loss to tell, many times with tears.
May the Lord bless you for caring for those who lost their homes in Hurricane Ida.
To support the work of Disaster Response Services, you may use the donation option below.
Donate
Hurricane Ida update
September 11, 4:38 PM
Rapid Response volunteers are busy cleaning up homes and properties damaged by Hurricane Ida. They are working to tarp roofs and cut up downed trees.
Volunteers with CAM's Loaves & Fishes food kitchen are busy serving meals since Wednesday of last week. The daily number of people being fed has been up to 1,900 on several day this week. Homeowners greatly appreciate hot meals made with love since electricity and water are still not available. It has been a challenge for the Loaves & Fishes team to find food for this many people in a hurricane damaged area.
Chaplains have been busy working alongside the food kitchen and ministering to the hurting people who come through the food line.
In addition to Louisiana, Hurricane Ida caused damage in various other parts of the U.S. The remnants of Ida joined up with another storm system when it reached the northeast, and brought tornadoes and flooding to several states. Below are several projects that have come out of this:
An EF-1 tornado hit the Oxford area. Rapid Response volunteers provided cleanup there for several days. Volunteers also cleaned up after a small tornado hit Leola, Pennsylvania.
New Jersey flooding
Several hundred homes were flooded in Manville, New Jersey.  The Virginia and New York Rapid Response teams are working together by helping to clean out flooded homes.
God bless you for your part in making these projects possible. If you wish to support the work of Disaster Response Services, you may use the donate option below.
Hurricane Ida update
September 4, 12:29PM
Citizens of Louisiana are reeling from the effects of Hurricane Ida, which pummeled communities with heavy rains and winds reaching 150 mph. This power-packed storm made landfall as a category 4 hurricane on August 29. Ida brought memories of sixteen years ago, when Hurricane Katrina wreaked devastation in the same area. Now Ida, ranked among the five strongest hurricanes to hit the U.S., leaves more than sixty people dead and many more grappling with severely damaged or destroyed homes.
Homeowners who waited out Hurricane Ida in southern Louisiana told terrifying stories of howling winds peeling roofs off homes and toppling trees. Others climbed into attics or on rooftops to escape floodwaters.
Houma, Louisiana, located near the Gulf of Mexico, suffered extensive loss in the storm. Crumpled roofs, toppled electric lines, and other debris litters the streets. A CAM staff member who visited the town shared, "There are very few houses, if any, that do not have significant damage."
A team from CAM's Search and Rescue program traveled to Louisiana shortly after Hurricane Ida. They worked to clear roads, making room for emergency vehicles. This enabled people to see their homes for the first time since the storm. "I wish you could have seen the despair and tiredness on their faces," said one team member. Homeowners broke down into sobs as they surveyed the devastating scene.
---
At a glance
Hurricane Ida hit as a category 4 hurricane with winds up to 150 mph.
"It's catastrophic."
—Staff member
Officials estimate that power outages caused by Hurricane Ida could last for weeks.
---
After hammering Louisiana, Hurricane Ida swept across the northeastern United States as a tropical storm. Record rainfall caused deadly flash floods that killed more than forty people. Residents of New York, New Jersey, and other states found themselves trapped in their basement apartments and stranded in flooded vehicles. Ida also caused tornadoes in some areas.
We are working to bring rays of hope in the wake of Hurricane Ida. Rapid Response volunteers based in Houma, Louisiana, are cutting up fallen trees, tarping roofs, and doing other cleanup work. A staff member testified that people wept when they realized somebody would help clean up or repair their homes. Residents of Houma are also receiving hot meals from our Loaves and Fishes Food Kitchen, operated by the New Order Amish. Chaplains accompany the food kitchen to provide spiritual encouragement. Following flooding and tornadoes in northeastern states, teams are researching needs and ways to help.
In addition to Hurricane Ida, Rapid Response workers recently helped in the aftermath of severe flooding in Tennessee. Floodwaters swept away homes, possessions, and most tragically, people's loved ones. Volunteers mucked out flooded homes and provided meals for flood survivors.
We are in the middle of the hurricane season and are preparing for a large-scale rebuilding effort in Louisiana and several other locations this winter. Our projected funding need for 2021/2022 is $3.6 million. If you would like to help, your support will provide cleanup, rebuilding, and other assistance, as well as hope and opportunities to share a Christian testimony.
Please pray that, amid overwhelming disaster and loss, our staff and volunteers would be Jesus' hands and feet. May God bless you!
Donate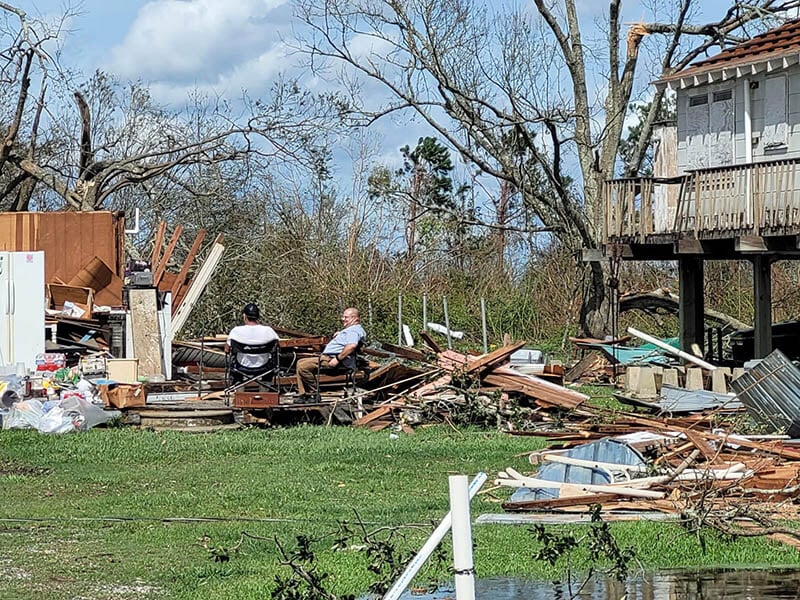 Hurricane Ida update
August 31, 12:29PM
CAM staff members continue to investigate needs in Louisiana after Hurricane Ida. Today, CAM's Loaves & Fishes Food Kitchen is on its way to Louisiana to provide hot meals for people affected by the storm. Our Rapid Response staff members are also preparing to set up a base to begin cleanup work. With thousands of fallen trees and damaged homes, cleanup work will no doubt last for weeks.

Join us in praying for the thousands of people who are recovering from devastation brought by Hurricane Ida.
Hurricane Ida hits Louisiana
August 30, 12:57PM
Hurricane Ida, a power-packed category 4 storm, hit southern Louisiana on Sunday afternoon. Ida struck on the sixteenth anniversary of Hurricane Katrina's devastating landfall on New Orleans and surrounding areas in 2005.
Damaging winds and heavy rainfall pounded southern Louisiana after Ida made landfall. Hurricane Ida remained a category 4 storm for six hours after hitting land.
CAM staff members are in Louisiana to evaluate damage and seek ways to help those affected by the storm. We plan to keep you posted as more information becomes available from the team.