This update was written by a CAM staff member who evacuated the country in February but returned in June along with the other U.S. staff members. CAM helps provide food, medicines, and Christian literature, as well as arrange rebuilding projects and prepare for winter needs by delivering firewood and other items before the cold weather sets in.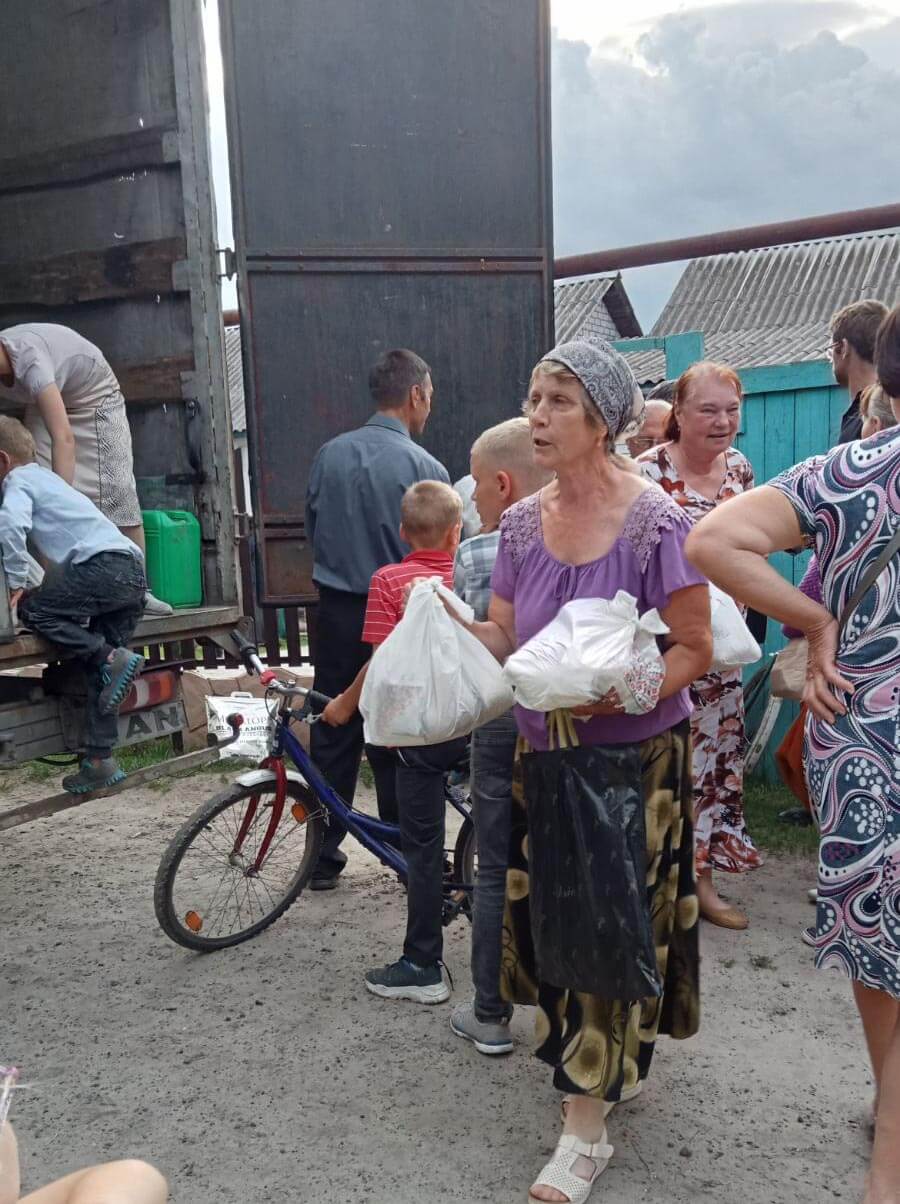 Hello from Zapruddya once again!
CAM's U.S. staff members left Ukraine on February 15 because of the growing threat of an invasion by Russia. It was hard to leave since it still seemed very peaceful. But just nine days later, the invasion happened. Many of the national employees fled to western Ukraine, while others left the country.
The employees who remained in the country gathered in western Ukraine and carried on with the work as soon as it was safe to do so. They had to overcome many obstacles, which included banking issues, dangerous conditions, roadblocks, and fuel shortages. We thank God for His guidance and protection in spite of all these things.
We stayed closely connected to the Ukrainians while we were in America. The men made several trips to Ukraine to help with aid and get a firsthand look at the situation. Then on June 13, most of us came back to Ukraine. A few returned to Ukraine two weeks later.
Ever-present military in Ukraine is the new normal
Life feels surprisingly normal here on our compound besides the fighter jets we often hear and see overhead, and the occasional helicopters that fly just above the treetops. The nights are very dark since most people still shut off all outside lights.
Outside the compound it's more evident that there is a war in the country. The military in Ukraine is definitely present. Most of the many roadblocks between Zapruddya and Kyiv are pushed off the road and left there in case they need to be reconstructed. The final one before entering Kyiv still has soldiers and police present. Sometimes they stop us and check our documents; other times they wave us through. The areas that were temporarily occupied by the Russians are heavily damaged, but many people are trying to rebuild. There are still occasional missile strikes, mostly in the larger cities, as well as heavy fighting in eastern and southern Ukraine.
Recently the authorities gave mandatory evacuation orders to residents remaining in Donetsk oblast. They said there will be no heat or electricity this winter so the time to get out is now. If these orders are followed, another wave of around 200,000 refugees is expected.
Pray for the work here. There are many needs and so many hurting people. Many believers report that they see an openness to the Gospel they never saw before. We have a wonderful opportunity to let His light shine!
To help support the Ukraine Crisis program, please click the button below to give a gift.